:::
Exhibition Review
5th Special Exhibition Hall - Oil-paper Umbrella Culture Special Exhibition
Publication Date:
2016/07/04
Hakka Arts - Oil-paper Umbrella Culture Special Exhibition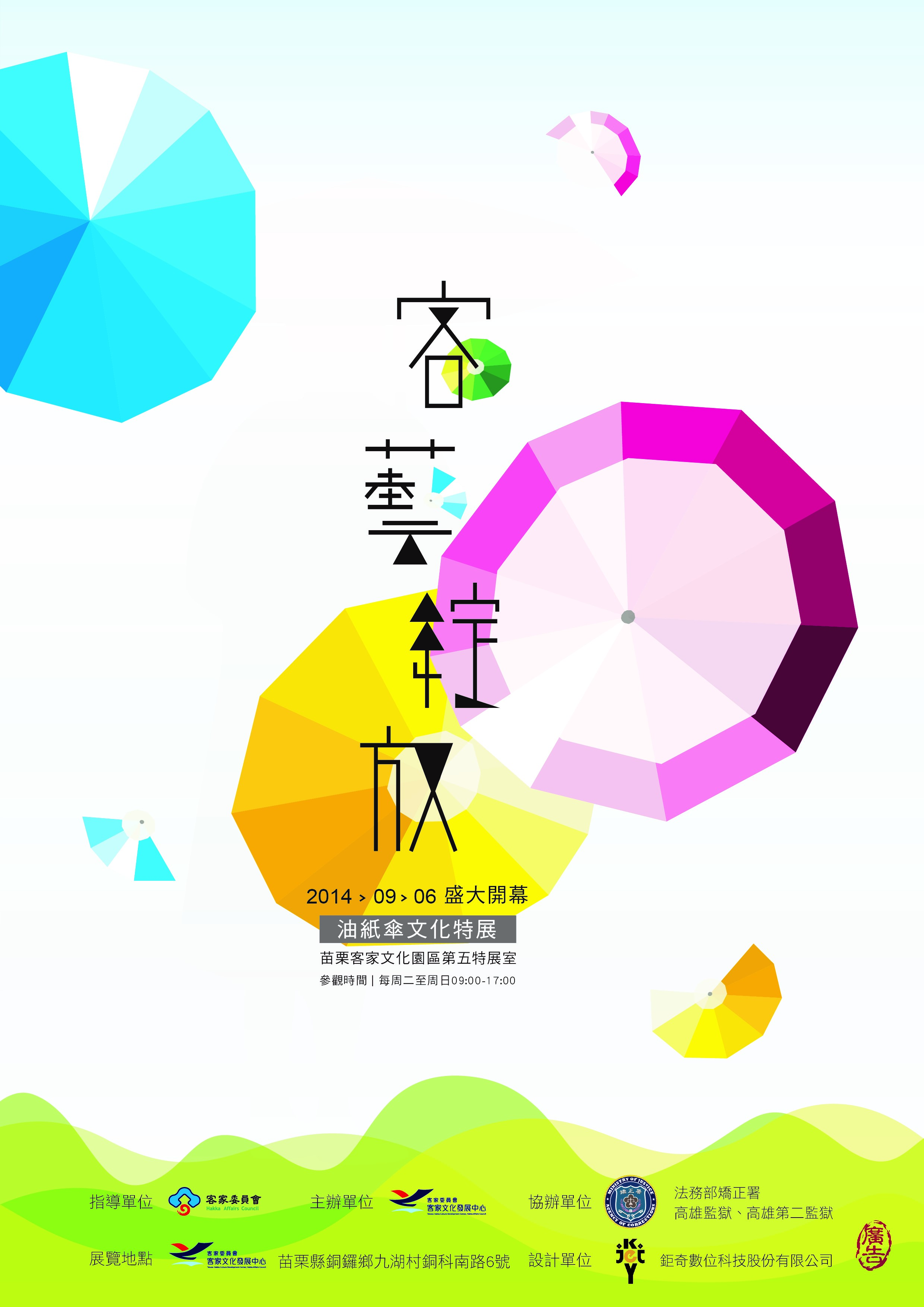 【Download Exhibition Brochures DM1】【DM2】【Event Message】【Learning Sheet】
【Beginning】
Imagination: Evolution of umbrella
There are various legends regarding the origin of umbrella. One of the widespread written records has it that Luban, a famous craftsman in the late Spring and Autumn Period in Chinese history, invented the "umbrella" more than 3000 years ago, when he drafted the prototype of an umbrella after the structure of the pavilion.
Umbrella spread across the sea
With the opening up and expansion of cross-border exchanges, oil-paper umbrellas began to spread overseas. It is said that oil-paper umbrellas were introduced to Taiwan during the Qing Dynasty, when our ancestors moved from mainland China to Taiwan. A historical record has it that up to the year 1923 during the period of Japanese colonial rule, there had been a number of umbrella-making factories in Taipei, Hsinchu, Taichung and Tainan, with the highest production volume in Tainan.
【Umbrella in Hakka】
In Chinese, "umbrella" and "separation" are homonyms, and thus it becomes a bogey for most of the Chinese to give an umbrella as a gift. Some have even believed that the umbrella is a hiding place for ghosts and therefore no umbrella should be opened inside the house. In stark contrast, the Hakka people consider the umbrella as not only a tool to keep away from exposure to the sun and wind and rain but also a good means to develop economy for a better life.
【Meinung Hakka Village‧Economic Legend】
In recent years Meinung has become synonymous with the making of oil-paper umbrellas. In fact, Meinung does not produce any of the main raw materials for making paper umbrellas. Nor does it possess any favorable conditions at all. The reason why this precious hand-made craft is eventually well retained, takes root and flourishes in Meinung is all because of a series of historic accidents and opportunities. Those legendary fragments have now turned out to be immortal stories told again and again by the elders in Meinung. As a matter of fact, there are also a few makers of oil-paper umbrellas in other regions. For example, the "Dongxing Paper Umbrella Craft Society" is located at Gaushu Township, near our Liudui Hakka Cultural Park. Another firm that has spared no effort to promote the oil-paper umbrella culture heritage is the "Sky Art Paper" based in New Taipei City.
【Asian Dialogue】
As the umbrella-making technology has spread, oil-paper umbrellas have created different cultural landscapes in different Asian countries. By collecting and comparing paper umbrellas made in mainland China, Thailand, Japan and South Korea, we can see how a culture renders differences and characteristics to its products.
【Light design: Renaissance movement in the aesthetics of paper umbrellas】
Umbrellas have been appearing in various forms and identities since ancient times, playing a seemingly small but pivotal role in the human world. By adding innovative thinking of contemporary design into the oil-paper umbrellas, traders have been injecting new life into the traditional craft and creating a niche for this cultural and creative industry.