:::
Exhibition Review
1st Special Exhibition Hall: A Never-Ending Stream – Taiwanese Hakka and Japan International Exhibition
Publication Date:
2022/11/16
From: August 12, 2020 – April 30, 2022
At: Taiwan Hakka Museum 1st Special Exhibition Hall
Flowing through a long period of time, across the space connected by ocean, the contact and influence between Taiwan and Japan has run uninterrupted and slowly. This exhibition, named "A Never-Ending Stream – Taiwan Hakka and Japan International Exhibition," has taken the lyrics of the Hibari Misora song "Kawa Na Nogare No Yo Ni" (Like the Flow of a River) and incorporated them into the title of each section, creating the feeling of a literary river that flows continuously through time and space.


---
A. Like the Flow of a River (Hakka: qiong ge hoˇ suiˋ ge liuˇ tungˊ)
The year 1895 saw the start of the 50-year period of Japanese rule over Taiwan. From that time the culture, lives and industries of Taiwan's Hakka people were deeply influenced by Japan, and this has in turn given rise to Japanese surveys and research into Taiwanese Hakka.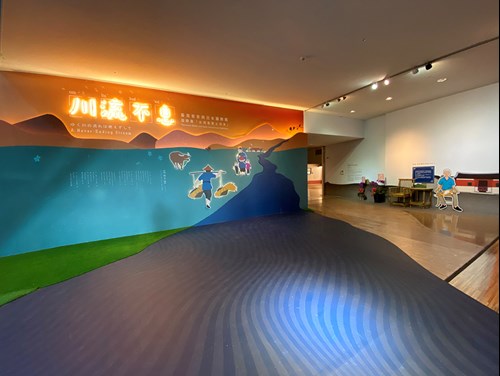 This exhibition seeks to present the interactions and exchanges between Taiwan and Japan from the Japanese colonial era to today, exploring the influence and development that Japan has had on ethnic Hakka culture in Taiwan, as well as the lives of Taiwanese Hakka in Japan.
B. On Rough Mountain Roads (Hakka: cai gia kiˊ budˋ piangˇ ge sanˊ lu zungˊ)
When the Qing government of China ceded Taiwan and Penghu to Japan following its defeat in the First Sino-Japanese War in 1895, military volunteers rose up around Taiwan to resist the Japanese forces who came to take over in what history calls the Yiwei War. Almost all ethnic groups in Taiwan took part in this campaign, especially the Hakka, who invested the most in human and material resources. Japanese forces encountered strong resistance from volunteers primarily made up of Hakka people in the areas of Taoyuan, Hsinchu and Miaoli before the war spread south to Liugdui area in Kaohsiung and Pingtung.
This campaign affected everywhere in Taiwan for up to 20 years, and was also the point where people on the island started to develop a sense of ethnic Taiwanese consciousness. From 1895, Japan began to have direct contact with Hakka people and started to document the Hakka of Taiwan.
C. On a Trail Without a Map (Hakka: moˇ ti tuˇ ziiˋ inˊ ge se lu song)
Japan's Shaping and Impressions of Taiwanese Hakka
After Japan took over Taiwan, in order to get a complete handle on the local situation to establish its rule and execute policy, the governor's office commenced surveys of land, customs, households, forestry and industry; this had an impact on Taiwan's resource utilization and industrial development. In the household registration survey of the year of 1905, Guangdong and Fujian were established as the basis for the linguistic and ethnic classification of Han Chinese people on the island.
During the 50 years of Japanese rule there were many Japanese narratives concerning Taiwanese Hakka. Mixed in with a sense of colonial superiority, these would also change for the purposes of boosting economic and industrial strength, for the goals of winning over the Hakka and assimilation, or because of contemporary political factors such as imperial spirit and war service.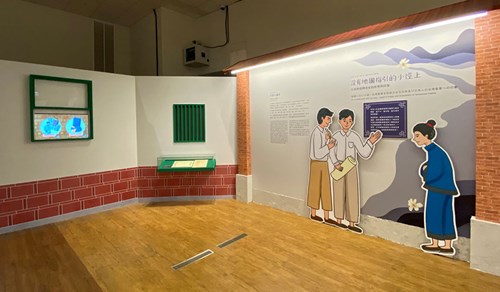 D. Flowing to Another Hometown (Hakka: liuˇ hiong lin idˋ ge gu hiongˊ)
Industrial Layout and Modernization
The Japanese government, in order to resolve problems of insufficient land for agriculture and overpopulation pressure, to strengthen its colonial rule, prepare for southward development and for its national defense and assimilation goals, directed the immigration of farmers from mainland Japan. Meanwhile, the construction of railways in Taiwan together with industrial development gave rise to a second Hakka migration within the island, with many moving outward from the northern areas of Taoyuan, Hsinchu and Miaoli.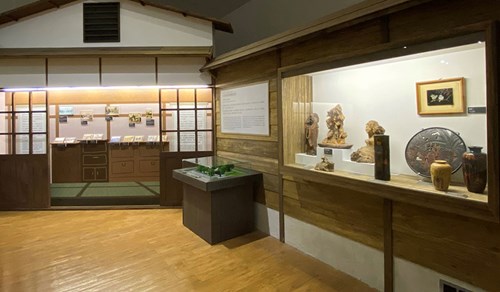 E. The Passage of the Four Seasons (Hakka: liuˇ go xi gui ge tuiˊ iˇ)
Westernization via Japan
Modern education, Western thought, physical exercise, the arrival of Western music with a developing market for musical records and gramophones, Western architectural styles and modern architectural materials all represented Westernization that came via Japan, influencing Hakka people in many areas, including language, music, architecture, literature and sports.
F. Running Hand in Hand on an Endless Road(Hakka: bunˊ liuˇ cai moˇ zungˊ diamˋ ge lu tuˇ kienˊ suˋ viˇ panˊ)
Taiwanese Hakka in Japan
During the Japanese era many Taiwanese went to Japan to study or do business, or were young people requisitioned to work for the military, Hakka people among them. The majority of these Hakka people in Japan worked in entertainment, hospitality, coffee shops, Chinese restaurants and real estate; there were also those who became scholars and doctors. In the postwar period, among second- and third-generation Hakkas there emerged stars of the performing arts.
All over Japan, Taiwanese Hakka set up Tsung Tsin associations to make it easier to look out for each other, pass on Hakka traditions or promote business cooperation, and also link up with similar overseas friendship associations.
G. The Green Stream Has Never Stopped (Hakka: qiangˊ liug ge se liuˇ mangˇ cenˇ tinˇ hiedˋ)
Japanese Scholars and Taiwan Hakka Research
In the Japanese era, Japanese scholars' descriptions of Hakka people changed several times due to references to Western missionary accounts, the effects of household surveys, and later the theories propounded by Chinese scholar Lo Hsiang-lin.
In the 1970s, Taiwanese Hakka research was still in its infancy, while Japan had recovered from its postwar economic situation. Humanities scholars came to Taiwanese Hakka communities, viewed Taiwanese Hakka as a branch of Han Chinese, and started to conduct research.
In recent years research into Taiwanese Hakka has flourished, and bridges for exchanges and cooperation have been established with Japanese academia. In 2017, the Taiwan Hakka Culture Development Center signed a six-year cooperation and exchange agreement with Japan's National Museum of Ethnology and National Chiao Tung University's College of Hakka Studies.