:::
Exhibition Review
5th Special Exhibition Hall: Exhibition on Taichung's Dapu Hakka Village
Publication Date:
2017/10/22
Exhibition on Taichung's Dapu Hakka Village
The dialects of Hakka spoken in Taiwan, in descending order of numbers of speakers, are Sixian, Hailu, Dapu, Raoping and Zhao'an. Of these, the Dapu dialect is mainly found in Taichung's Dongshi, Shigang, Xinshe and Heping districts, as well as parts of Miaoli County's Zhuolan Township and Nantou County's Guoxing Township.
The global Dapu Hakka family has its ancestral roots in Dapu County in China's Guangdong Province. For 300 years they have been branching out overseas and may be found in Taiwan, Hong Kong, Brunei, Singapore, Malaysia, Indonesia, Vietnam, Thailand, the United States and elsewhere.
Dapu Hakka Origins
The Dapu Hakka in Taiwan originated with migrants from Guangdong Province's Dapu County under Chaozhou Prefecture (the old county town was called Chayang) and the northern part of Fengshun County. They came to settle in what is now Fengyuan, Shigang, Dongshi and Xinshe in Taichung; this became Taiwan's only Dapu Hakka area.
Food
Rice cakes
Rice is an essential staple for Hakka people, and they are good at using rice to make all kinds of foods for daily use as well as for seasonal celebrations and religious observances.
"Ban" or rice cakes are normally made from sticky rice. There are many kinds, but the most common are the "sweet cake" (Mandarin: nian gao, New Year cake) eaten at Lunar New Year and "vegetable cake" (Mandarin: luobo gao, turnip cake). There are the tangyuan (glutinous rice balls) seen at Lantern Festival; the qingtuan (grass cake) eaten at the Qing Ming Festival; the Dragon Boat Festival's zongzi and banzong (types of stuffed sticky rice dumpling) and the red tortoise cake ("ang ku kueh") used for times of celebration. Ban is not only a kind of food for rituals but is also essential at Lunar New Year.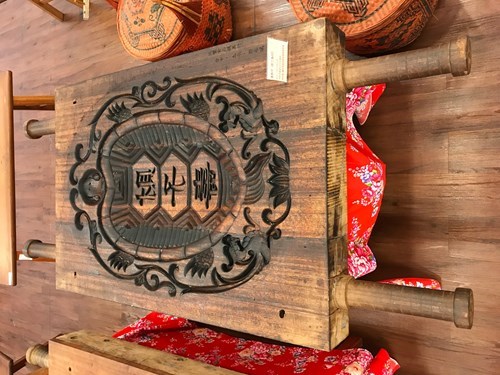 Pickles
Hakka people have traditionally lived in mountainous and hilly regions where supplies can be scarce and with limited links to the outside; especially in fall and winter it could be difficult to replenish supplies. Because of this, Hakka people have been accustomed in the fallow period after the rice harvest to grow large amounts of turnips, mustard greens, cucumbers and beans and preserve them through means such as pickling and drying in time for the coming winter. For this reason, pickled foods are considered representative of Hakka people.
If you'd like to know more about the Hakka cultural landscape, Hakka rituals and the Tuniu Hakka Cultural Museum, why not check out the Taiwan Hakka Museum?