:::
HAC cultivates professional interpreters to build Hakka-friendly environment
Source:客家文化發展中心
Publication Date:2021/03/24
Last updated:2021/03/24
Count Views:49
A ceremony was held in Taipei on Dec. 16 to mark the completion of the preliminary training program for Hakka-English/Hakka-Hoklo (also known as Taiwanese Hokkien or Taigi) interpreters that was launched by the Hakka Affairs Council (HAC) to implement the Hakka Basic Act for a Hakka-friendly environment.



HAC Minister Yiong Con-ziin presented certificates to 11 trainees who have successfully finished the interpretation course, saying he was pleased to see the inclusion of these bilingual professionals in the database of Hakka interpreters.


The minister said that HAC has organized the interpretation program for three consecutive years. With every trainee's hard work in this program, a group of skilled language interpreters were cultivated, said Yiong. He explained that, in the past, Mandarin was usually used in conferences relating to Hakka issues on the ground that most people were unfamiliar with the Hakka language.  As a consequence, the minority language has been excluded from the public spheres.



HAC rolled out the Hakka interpretation service to expose many Hakka-illiterate people to the Hakka-speaking environment and to enable the language to be heard and used in public spaces, the minister said.


Stressing that the completion of the program is not the end but the beginning of the interpreting profession, Amy Chiang (蔣希敏), an experienced interpreter, encouraged the students at the ceremony to keep pursuing constant improvement to become experts in the field of Hakka interpretation.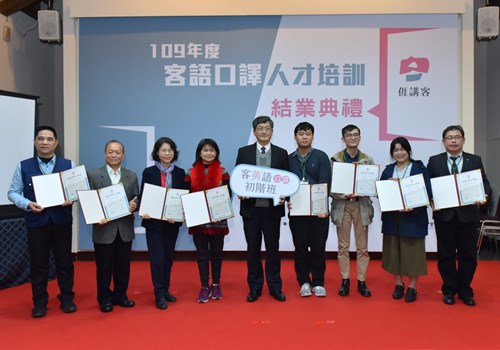 HAC expects that Hakka linguistic talents can use their professional skills on public occasions to help the interpretation service become more common and enable more people to get accustomed to hearing or speaking Hakka, especially after the Hakka language was officially recognized as one of the national languages.


A database of Hakka interpreters set up by HAC is available on its official website for those who need the interpretation service in different languages, including Mandarin, Hoklo, English, and Japanese, helping the Hakka language to become more popular.