:::
Hakka craft workshops in Kaohsiung officially certified by HAC
Source:客家文化發展中心
Publication Date:2021/02/17
Last updated:2021/03/30
Count Views:48
To perpetuate Hakka craft culture and promote the ethnic traditional industries, the Hakka Affairs Council (HAC) launched the Hakka Crafts Transmission and Regional Revitalization Pilot Project (客家技藝傳習及創生示範計畫), through which eight workshops have been selected as the representative Hakka craftsmanship.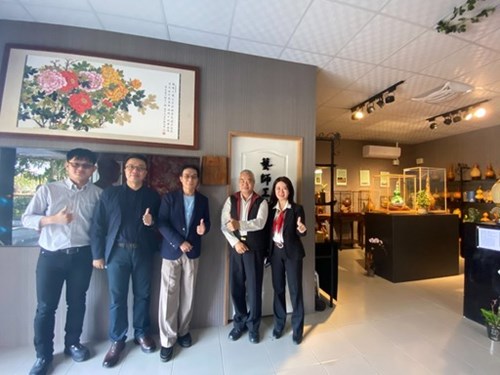 HAC Deputy Minister Chung Kung-chao (鍾孔炤) visited two of the workshops in the districts of Shanlin and Meinong of Kaohsiung City on Feb. 8, certifying them as a Hakka Craft Workshop by giving each one of them a plaque.


Deputy Minister Chung stated that many Hakka crafts might disappear if they are not continuously passed down. He said that the inheritors' determination to transmit legacies is the key factor to help preserve Hakka culture through mentorship whether from master to disciple or from father to child. Taking oil paper umbrellas—Meinong's renowned handicraft—for example, Chung hopes its successors can protect and promote the craft, allowing more people to learn about the unique Hakka heritage.



At his first stop in Shanlin, the Deputy Minister put up the plaque for Shanlin Gourd Art (葫蘆文化創意有限公司), a workshop dedicated to gourd creations that subvert the stereotype of arts with its innovative ideas. Chung said that, in addition to artworks with carved calligraphy, the workshop has produced gifts and souvenirs, including gourd lamps, decorative charms and keychains, while also offering tours and hands-on activities, which diversifies the creating of gourd art.


The Deputy Minister later visited his second destination—Kuang Chin Sheng Paper Umbrellas Studio (廣進勝紙傘工作室) in Meinong—to give it the official recognition. With reports on the studio, the story of the founder Lin Xiang-lin (林享麟) and the process of making the oil-paper umbrellas were revealed by many media. Through publicity, the increased visibility of oil-paper umbrellas enabled the products to break away from being seen only for their practical use, and turned the making of oil-paper umbrellas into a local cultural industry combined with tourism.