:::
Hakka documentary, TV film snatch awards at New York Festivals
Source:客家文化發展中心
Publication Date:2022/05/02
Last updated:2022/05/26
Count Views:164
Produced by Hakka TV, the documentary "In Search of Rice Huller (礱之旅)" and the television film "The Child of Light (光的孩子)" won bronze medals at the 2022 New York Festivals TV & Film Awards.

"In Search of Rice Huller" focuses on the past and present of the rice milling industry in Taiwan, presenting the evolution from the traditional handmade rice huller to the modern automatic rice milling plant through the life stories of six characters in the docufilm.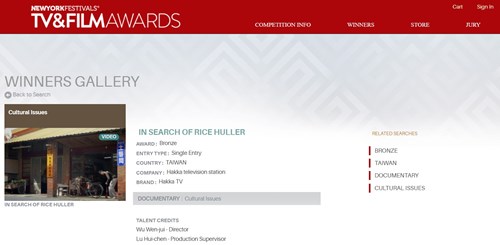 Rice is Taiwanese people's staple food. Over the years, there have been many films about growing rice, but very few about milling rice, a process that is an essential part of the whole industry but often unfamiliar to the public. The documentary allows audience to get a better understanding of the unique craft—traditional rice hullers—and the milling rice operation in Taiwan.

Directed by award-winning director/actress Herb Hsu (徐麗雯), the TV film "The Child of Light" follows a single female dancer who gives up her performing career to shoulder the responsibility for taking care of her mother with dementia, presenting "the unavoidable choice in life" that consists of family obligation and internal conflict.
In addition to addressing the issue of long-term care, this film also explores the topic of artificial insemination, looking into how an accomplished woman in contemporary society makes important decisions to fulfil her duty. 

In a video posted on their Facebook page, the film's producer Chang Che-lung (張哲龍) and director Hsu thanked the judges of the New York Festivals for the recognition of this film, saying that they embrace brightness and darkness in life with an open mind because they always believe both light and shadow are part of humanity.