:::
President Tsai attends groundbreaking ceremony of 2023 World Hakka Expo
Source:客家文化發展中心
Publication Date:2022/05/13
Last updated:2022/05/26
Count Views:468
Accompanied by Premier Su Tseng-chang (蘇貞昌), Hakka Affairs Council (HAC) Minister Yiong Con-ziin, and Taoyuan Mayor Cheng Wen-tsan (鄭文燦), President Tsai Ing-wen (蔡英文) attended the World Pavilion groundbreaking ceremony of the 2023 World Hakka Expo in Taoyuan City's Longtan District on May 10.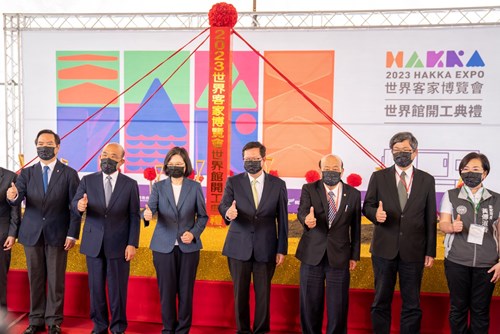 Currently, preparatory work is ongoing for the world's first-ever exposition focusing on Hakka culture, which will take place in August next year.

In her speech, President Tsai said that she is determined to achieve the goal of reviving Hakka culture since she took office in 2016, making Hakka people feel proud of their ethnic identity and bringing the Hakka language back to daily life.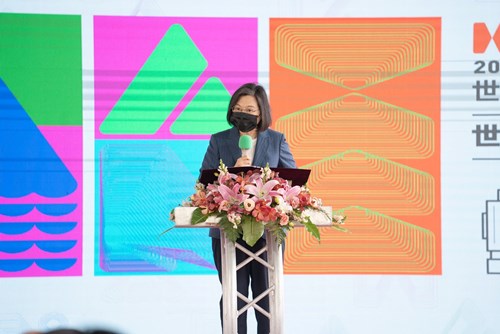 Tsai pointed out that, under the close collaboration between the central and local governments, many construction projects aiming to preserve Hakka culture have been completed one after another over the years.

The President noted that there has been great progress in Hakka regional revitalization and language promotion as the Hakka language can be used in public institutions and more and more young people are returning to Hakka villages to seek employment or start a business to boost local economy.

Tsai said that the theme of the expo is "Travel to Tomorrow," which conveys the meaning of "Future Hakka." She hopes that the expo will reflect the experiences of Hakka immigrants who have diversified local cultures in different parts of the world, and present to the global Hakka community Taiwanese Hakka people's cultural creativity and innovation nurtured in a free and democratic society.

By highlighting Taiwanese Hakka characteristics in the exposition, more people will see one of the country's unique cultures and be willing to pass down Hakka heritage, Tsai said, expecting that, with many people's hard efforts, Taiwan would become the Hakka cultural capital of the world.

HAC Minister Yiong stated that, from the past to the present, Hakka people have never been absent from globalization. Since the Age of Discovery in the 16th century, Hakka immigrants have traveled to many places and settled down in different countries around the world, Yiong explained, adding that Hakka people are an indispensable member of the international community. The Minister said that, through the World Hakka Expo, Taiwan will showcase its Hakka cultural vitality and present to the world a new global Hakka discourse.