:::
President Tsai pays respects to Hakka martyrs of 1895 war against Japan invasion
Source:客家文化發展中心
Publication Date:2022/07/04
Last updated:2022/07/22
Count Views:548
President Tsai Ing-wen attended a ceremony to commemorate the 127th anniversary of the Yiwei War—a war against the Japanese Invasion of Taiwan in 1895—at the 1895 Yiwei War Memorial Park in Taoyuan City on July 2, along with Hakka Affairs Council (HAC) Minister Yiong Con-ziin, Taoyuan Mayor Cheng Wen-tsan (鄭文燦), and descendants of Hakka warriors who fought in this war.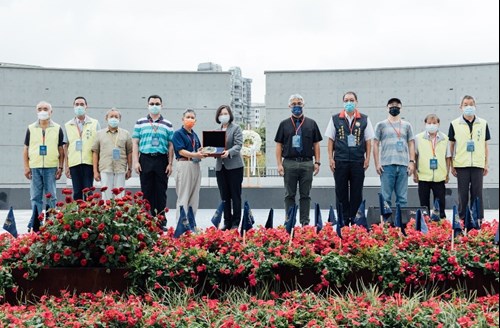 Paying respects to those who sacrificed their lives to protect their beloved homeland over a century ago, President Tsai said everyone at that time, regardless of ethnicities, joined forces in this war to defend Taiwan and combat the aggressor. The "Yiwei spirit" not only represents the Hakka spirit of hardiness and resistance but also demonstrates our responsibility to protect national security, the President added.
Tsai pointed out that, officially open last November, the memorial park was built to remember and reflect on the war of 1895, saying that, in addition to passing down Hakka history and culture, the park is a reminder of the importance of being solidly united. The President appreciated the efforts of Minister Yiong and Mayor Cheng to make the memorial park possible. 

Noting that the memorial park is one of the significant results in the project of Taiwan Romantic Route 3 promoted by President Tsai, Minister Yiong said it gives him a great comfort to see a national monument to victims of the war 127 years ago in the Hakka region.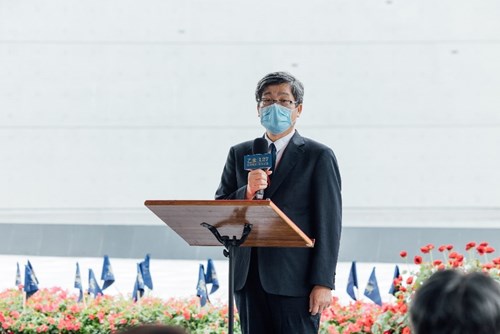 The Minister spoke of his taking part in an event last year commemorating the Battle of Baguashan (八卦山之役) in Changhua County, which was one of the fiercest resistances against Japan's invasion of Taiwan during the late 19th and early 20th centuries. He said that, to remember toughness and bravery of our ancestors from different ethnic groups, including Hakka, Hoklo, and indigenous people, we preserve the history of defending our homeland. Without the bloody sacrifices made by these heroes, we couldn't have had our home, the Minister added.