:::
Hikers from different countries "gather at the dream route": Vice President Lai Hopes World Sees Beauty of Taiwan
Source:客家文化發展中心
Publication Date:2023/01/16
Last updated:2023/02/16
Count Views:218
On the occasion of the 2022 4th Asia Trails Conference in Taiwan, the Taiwan Thousand Miles Trail Association (TMI Trail) organized a welcome reception and gala dinner at the Grand Hotel Taipei on December 1. Vice President Lai Ching-te and Hakka Affairs Council (HAC) Minister Yiong Con-ziin were among the attendants.
Vice President Lai Ching-te first offered a warm welcome on behalf of President Tsai Ing-wen to the more than 80 hiking lovers from 9 countries and 21 trail work organizations present. The event was particularly significant seeing that Taiwan had tight border controls in place for all three years of the COVID-19 pandemic. Visitors finally had the opportunity to savor Taiwan's pristine mountains and rivers, kind people, and breathtaking sceneries.
Minister Yang is a tireless promoter of the Raknus Selu Trail, a national-level green trail. He said that climbing is not a mere physical exercise—in the past, people would cross this road to pick rice for selling, welcome their bride who traveled dozens of kilometers to the village she'd now call home, or venture into town to witness once-a-year shows. In even earlier times, our forebears would traverse the trail to collect camphor and plant tea. They endured unimaginable hardships to clear the land and survive as people from different ethnicities clashed. They paid the price of sweat and blood to hand down to us the Raknus Selu Trail we enjoy today. We should recall their stories every time we tread thereon.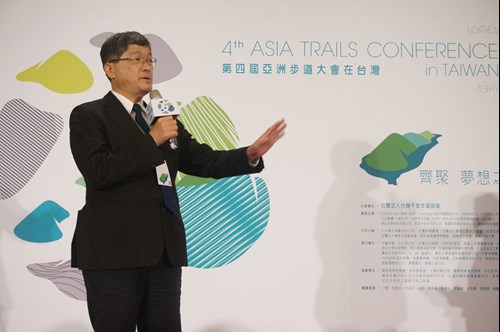 The 4th Asia Trails Conference took place from December 1 to 5. Under the theme of "Together, we go further", Taiwan chose three national-level, long-distance green trails to share with international visitors: Tamsui-Kavalan Trails, Raknus Selu Trail, and Mountain to Seas Greenway.
This was the largest-scale event held to date post-pandemic, making this an unmissable chance to publicize Taiwan's hiking trails to the global community. According to TMI Trail, these are characterized by geographic proximity between mountains and the ocean, rich and varied flora, cultural diversity, the presence of mountains on all sides, and convenient public transport.