:::
Another Taste of Gold Leaf Opening of the Taiwan Hakka Tea Culture Museum
Source:客家文化發展中心
Publication Date:2023/02/16
Last updated:2023/03/13
Count Views:301
Minister Yiong Con-ziin of the Hakka Affairs Council (HAC) attended the opening ceremony of the Taiwan Hakka Tea Culture Museum in Longtan, Taoyuan on December 10. Minister Yiong remarked that the museum bears witness to the crucial role that the tea industry has played across the history of the Hakka people and Taiwan alike. For the Hakka people, tea stands for more than just trade and farming—it is a form of cultural expression.
Another Taste of Gold Leaf Opening of the Taiwan Hakka Tea Culture Museum
Minister Yiong recounted how Longtan acted as a hub connecting the waterways of Taiwan's tea industry that spanned from Taoyuan across Hsinchu and Miaoli, granting it a special status even on a global scale. It contributed greatly to the economic development and social stability at the time. The establishment of a tea culture museum pays homage to this staple from Hakka and even Taiwanese history as a whole.
HAC stated that the Taiwan Hakka Tea Culture Museum's position in Longtan's southwest, known historically as tungˇ loˇ kienˊ, is extremely favorable as there are themed amusement parks and accommodation facilities in its vicinity, as well as tea fields and tea factories still active today. It is hoped that the museum will integrate with the locality and spur its economic development and popularity by enhancing overall environmental quality.
The Taiwan Hakka Tea Culture Museum was designed based on a principle central to tea culture: you ground yourself in the moment, quiet down, and savor the tea as it goes from the pot to the cup to your mouth and body. The eco-building is a winner of the MUSE Design Awards. The museum consists of a spacious lobby with superb natural lighting, a tea factory, an innovative cookery, a plaza, and an exhibition room introducing tea cultures from six different countries. There is also a special double exhibition on the Hakka period drama Gold Leaf and Hakka rice dishes, pickled food, and tea varieties, titled Four Seasons in a Hakka Village. Additionally, the second floor has both Chinese- and Western-style restaurants from which one can enjoy a meal while taking in the verdant mountain scenery.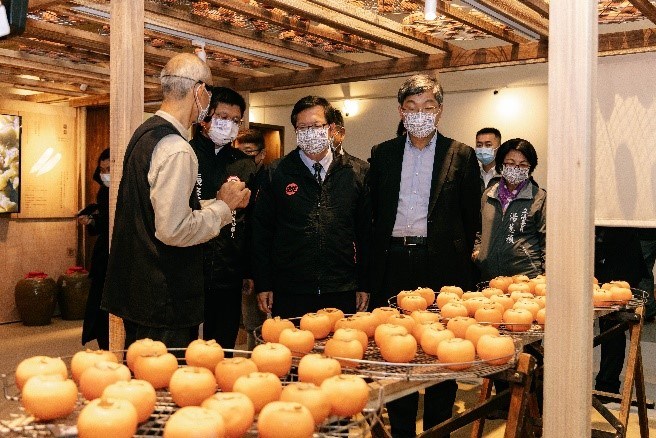 With the theme of "In Search of Tea Aromas", Hakka tea-picking performances, scavenger hunt games, textile printing and tea experiences, tours by tea farmers, and other limited-time activities were launched on December 10 and 11 to celebrate the museum's opening, giving visitors a taste of the varied and entertaining things the Taiwan Hakka Tea Culture Museum has to offer.