:::
Three Great Songwriters Ara Kimbo, A-tao Chen and Chen Ming-chang Share the Stage on Dec 30 Debut of New Co-Written Song Grain of Rice
Source:客家文化發展中心
Publication Date:2023/02/16
Last updated:2023/03/13
Count Views:448
The Hakka Affairs Council (HAC) organized the performance Three Greats of Taiwanese Folk Music: Ara Kimbo, A-tao Chen, and Chen Ming-chang in Concert in Taipei Music Center's Concert Hall on December 30. Other than the three great songwriters, Golden Melody Awards winners and nominees IO Chen, Ken Ohtake, Toshi Fujii, Cudjiy lja karivuwan, and Alex Wu, among others, participated in the show, demonstrating their superb musicianship to attending melophiles.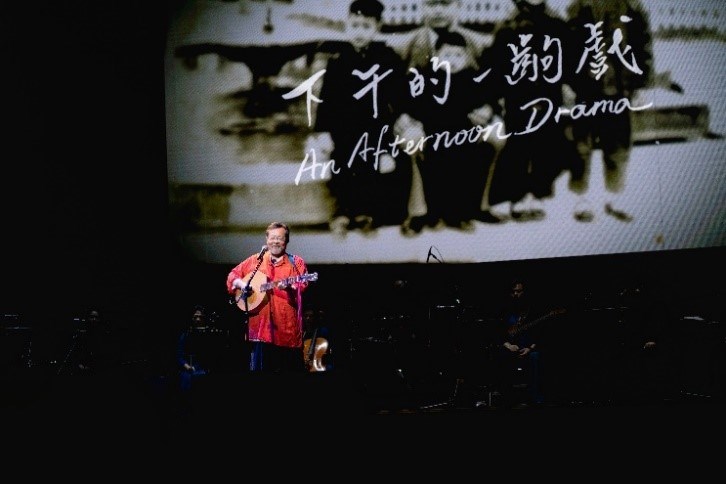 Chen Ming-chang opened the performance with past hits like Chasing, Chasing, Chasing, Wandering to Tamsui, and An Afternoon Drama. He invited his ensemble, Formosa Danshui Wandering Minstrels, on stage, comprised of performers not only on the violin and drum set, but also on the traditional moon guitar, Taiwan moon guitar, tanggu (ceremonial) drum, and djembe, delighting listeners with fascinating musical textures.
In the opening video, one could see A-tao Chen immersed in the nature he loves so much, interacting with his friend the freshwater crab. It made clear why many call him the "bard of the land". With great ease, he played the guitar, ukulele, harmonica, and fretless moon guitar interchangeably on stage, performing classics like Waterways, Pacific Ocean, and Years Go By. Pictures of his childhood and youth appeared on the background screen, making the performance an intimate one and laying bare his life story in perfect harmony with the theme "Things from the Past".
Last but not least, Ara Kimbo began his section of the show with a video showing his concern for culture and the environment. It started with him on the piano and vocals and IO Chen on the cello, a simple but exquisite combination. Bassist Cudjiy lja karivuwan and percussionist Alex Wu then joined them to deliver beloved songs Dawu Mountain, Our Beautiful Mother, Formosa (The Beautiful Island), and others.
For the grand finale, the three songwriters shared the stage and performed their take on the traditional tune Remember, as well as the new song Grain of Rice, co-written by the trio in Beitou, a symbol of their enduring friendship. A-Tung's Song, Hengchun Melody, and showstopper Beautiful Rice followed, bringing the show to a breathtaking ending.