:::
THCDC opens exhibition on coastal Hakka settlement artifacts
Source:客家文化發展中心
Publication Date:2022/07/30
Last updated:2022/11/14
Count Views:1706
An exhibition featuring stories and experiences of people in Xinpi and Jiadong townships of the Liugdui Hakka settlements will be held at Jiangong Quadrangle House, a traditional Hakka heritage site in Pingtung's township of Xinpi, from July 30 to Oct. 31, 2022.
Xinpi and Jiadong are the only two coastal townships of the Liugdui settlements. Located in the southern bank of a river, the two townships were collectively called the "thirteen villages of southern bank," Deputy Minister Chung Kung-chao (鍾孔炤) of Hakka Affairs Council said at the opening ceremony.
The exhibition, titled "Hang Liau: 13 Villages of Southern Bank," is the result of a collaboration with THCDC and Academia Sinica, which provides 3D layers and visualization in GIS that present the developments of Xinpi and Jiadong townships from the late Qing dynasty (1987), the Japanese colonial era (1904), to nowadays, Director Ho Chin-liang (何金樑) of Taiwan Hakka Culture Development Center (THCDC) explained.
For the first time, the exhibition was curated by THCDC in collaboration with local residents, students, and teachers. The months-long display will be divided into two parts, with the first session highlighting the relationship of water with Xinpi township, where water resources are abundant.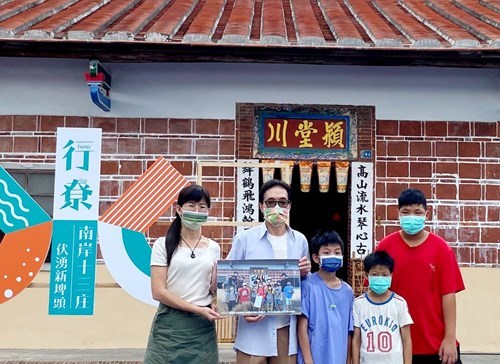 The exhibition will showcase water-inspired works co-created by artist Wang Yen-chen (王彥臻), students and staff of Dacheng Elementary School, and local residents to give the viewers a perspective to rethink the relationship between water and human beings.
Everyday items and old photographs will also be displayed at the exhibition, illustrating the landscape and lifestyle of the settlements to offer glimpses into how Hakka people adapted to different environments in the past.
The opening ceremony was joined by Hakka singer-songwriter Yan Zhi-wen (顏志文) as well as students from local elementary and junior high schools, who performed Hakka songs together.
A number of local elders and village chiefs also attended the event to tell their stories and share memories of the early days of the village, such as the disappearing folklore of "watching bowls," "banana houses" and "watermelon houses."